On the Way to Olympics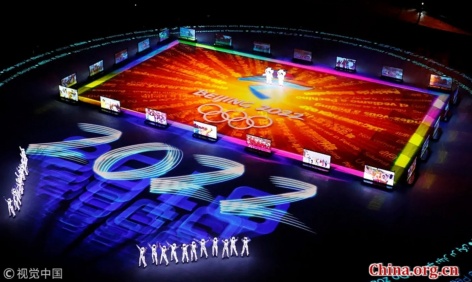 25 January 2020 года
The Games return to Beijing
Beijing 2022 will be a Games of firsts in many ways. As well as being the first Olympic Winter Games to be held in China, Beijing will also hold the distinction of being the first city ever to have hosted both the Summer and Winter Games.
"Beijing 2022 is a huge opportunity because a lot of people in China are turning their attention to sports that they didn't know existed before," said Chinese freestyle skier Gu Ailing Eileen, gold medallist in women's halfpipe and silver medallist in the women's slopestyle at the Youth Olympic Gamesm 2020 in Lausanne.
"Freestyle skiing is a new sport and people are only just learning about it. You can really see the growth [of winter sports] in China. In the beginning, I knew everyone in the ski community; there were about 50 people. Nowadays there are hundreds of thousands of people. The rate at which it's growing is incredible."
In keeping with the strategic aims of Olympic Agenda 2020, the local organising committee has already announced its plans to reuse several of the legacy venues from Beijing 2008 for the upcoming Winter Games – including the famous 'Bird's Nest' National Stadium for both Opening and Closing Ceremonies and the 'Water Cube' National Aquatics Centre for curling events.
What's more, Beijing 2022 will host seven new winter sport events: women's monobob; men's and women's freestyle skiing big air; mixed team events for freestyle skiing aerials, ski jumping, and snowboard cross; and the mixed relay in short track speed skating.
Following the trend of the gender-equal YOG in Lausanne, Beijing 2022 is also set to be the most gender-balanced Winter Games yet with 45.44 per cent of the athletes are expected to be women, and more women's events have been scheduled than ever before. Given her success in Lausanne, Gu is likely to be regarded as one of China's most prominent female athletes in Beijing 2022 – a platform that can encourage even more girls and young women in the country to take up winter sports.
"I think it's important for them to have a role model to look up to, but also have someone who really loves sport," Gu said. "I want to tell people to get on the snow because it's healthy and fun; whether you're with friends or pushing yourself to do your best, there really is no feeling like it.
"I want to introduce more Chinese girls to Olympic sports or extreme sports so that they can find their own reference points. Winter sport has so much room for growth in China."
Similar to Lausanne 2020, the Winter Games in Beijing will see some events take place outside the main city. While Beijing itself will host all ice events and four snow events, Yanqing (a suburban district 80km northwest of Beijing) will welcome the Alpine skiing and sliding competitions. The remainder of the snow events will be held in Zhangjiakou, situated in the neighbouring Hebei province. This multi-venue approach is just one way in which Beijing 2022 can learn from the success of the YOG in Lausanne.
"What we're going to be working on with Beijing 2022 that we've learned at Lausanne 2020 is to create opportunities," said Christophe Dubi, the IOC's Olympic Games Executive Director. "Play, have fun, engage and interact. We have all the ideal facilities in place in Beijing."
Source: fis-ski.com