Around the world

9 October 2015
Cortina brings back some special action
This season's sbx World Cup tour will feature a total of eight stops of which three are brand new. One of them is Cortina d'Ampezzo, which has left its stamps on the Europa Cup circuit already.


9 October 2015
Phillip Sjoeen takes a break from competition
Norwegian youngster Phillip Sjoeen has decided to take a break from competition due to mental problems and will therefore also not be participating in the national championships this weekend.

8 October 2015
Homologations in Morocco to promote winter sports
On the side lines of the FIS Technical Committee meetings in Zurich (SUI) the Morocco Royal Ski Federation and representatives from Sierra Nevada ski resort met with FIS President Gian Franco Kasper and Secretary General Sarah Lewis.

FIS News

9 October 2015

9 October 2015
Freeze Big Air 2015 postponed
Originally scheduled for Saturday 14th November 2015, the intention is now for Freeze Big Air to take place during early 2016 at Queen Elizabeth Olympic Park in London.


8 October 2015
Quick Hits
With just under 130 days to go to the 2nd Winter Youth Olympic Games in Lillehammer (NOR), this coming February, the Organisers presented their final preparations to the IOC Coordination Commission – of which FIS President Gian Franco Kasper is a member – this week.

Sport News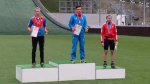 9 October 2015
Ernest Yahin takes Russian summer national title 2015
Ernest Yahin is the best Russian Nordic Combined athlete of the summer 2015. After being the sole Russian started in the Summer Grand Prix, the 24-year-old also won the title of the Russian national champion on the normal hill in Sochi.

7 October 2015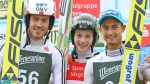 5 October 2015

Road to Olympics

28 September 2015
IOC latest news
IOC President addresses interactive session at UN on need for effective, accountable and inclusive institutions in achieving recently adopted Sustainable Development Goals

24 September 2015
PyeongChang Coordination Commission
FIS President Gian Franco Kasper and Secretary General Sarah Lewis are currently attending the fifth visit of the IOC's Coordination Commission for the 2018 Olympic Winter Games.

17 September 2015
Olympic 2018 Inspections
A delegation of key FIS officials are spending this week in PyeongChang (KOR) as part of an official inspection for the 2018 Olympic Winter Games.