Around the world

24 October 2014

24 October 2014
Anna Fenninger awarded Skieur d'Or award by AIJS
Austria's 25-year-old Anna Fenninger has been elected 'Skieur d'Or-AIJS' for the 2013/14 season by a large majority of members of the International Association of Ski Journalists becoming the 15th woman to receive that award a year after Slovenia's Tina Maze. 

23 October 2014
Swiss Team trained in Saas-Fee
It seems the last weeks/months have been something like a Hedgehog Day for the Swiss Snowboard Cross Team as the squad led by Harald Benselin visited Saas-Fee for several training camp which alternated with stamina work out weeks 

FIS News

23 October 2014
Clinic Munich - 1st Cross and Slope Course Design Workshop
Last weekend, the Audi Conference Centre in Munich (GER) hosted the first-ever FIS Cross and Slope Course Design Workshop. The goal of the seminar was to gather all the stakeholders involved with Freestyle Skiing and Snowboard competitions in one place to discuss the most important issues about course design before the 2014/15 season kicks off in December. 

23 October 2014
Green light for Kreischberg 2015
With the onset of snow starts falling in Central Europe, the World Broadcasters Meeting and last Technical Inspection took place before the 2015 FIS Freestyle and Snowboard World Ski Championships kick off just 86 days from now in Kreischberg (AUT).

21 October 2014
Intense activity in Oberstdorf
Many teams currently take advantage of the excellent training conditions in Oberstdorf (GER) in order to get themselves ready for the upcoming winter season.

Sport News

24 October 2014

21 October 2014

20 October 2014

Road to Olympics

24 October 2014
Olympic Agenda 2020 discussions culminate in 20 + 20 recommendations
The Executive Board (EB) of the International Olympic Committee (IOC) agreed today on a set of 40 recommendations that will shape the future of the Olympic Movement. The recommendations will be presented, discussed and voted upon by the full IOC Membership at the 127th IOC session in Monaco on 8 and 9 December.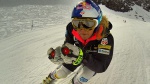 1 October 2014
Lindsey Vonn takes on Youth Olympic Games role for Lillehammer 2016
With 500 days to go to the second Winter Youth Olympic Games in Lillehammer, Norway, the International Olympic Committee (IOC) announced today that Olympic champion Lindsey Vonn will reprise her role as Ambassador for the Games, which will take place in February 2016.

23 September 2014
Vitaliy Mutko: program-2018 is a development of program-2014
Yesterday, 22 September, the Minister of Sport of the Russian Federation Vitaliy Mutko signed an order № 783, which confirmed "Complex Program of preparation of Russian Athletes for the Olympic and Paralympic Games 2018 in Pyeonchang-2018".

Calendar
| | | | | | | |
| --- | --- | --- | --- | --- | --- | --- |
| Mon | Tue | Wed | Thu | Fri | Sat | Sun |
| 29 | 30 | 1 | 2 | 3 | 4 | 5 |
| 6 | 7 | 8 | 9 | 10 | 11 | 12 |
| 13 | 14 | 15 | 16 | 17 | 18 | 19 |
| 20 | 21 | 22 | 23 | 24 | 25 | 26 |
| 27 | 28 | 29 | 30 | 31 | 1 | 2 |