Around the world

30 January 2015
Simon Ammann back in training
Simon Ammann is on the mend after his fall in the final event of the 4-Hills-Tournament in Bischofshofen about three weeks ago. 


29 January 2015

29 January 2015

FIS News

30 January 2015
World Cup returns to Rogla
Just one week after the FIS Freestyle Ski & Snowboard World Championships wrapped up at Kreischberg, the World Cup tour picks up speed again with a parallel giant slalom in Rogla scheduled for January 31st.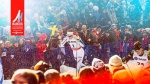 30 January 2015
Falun 2015 – less than one month to go
After nearly five years of preparation, less than a month now remains until the opening of the FIS Nordic World Ski Championships 2015 in Falun on 18th February.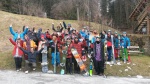 29 January 2015
News from the FIS Development Programme Training Camp in Kreischberg
The FIS Development Programme Freestyle Ski and Snowboard Training Camp 2015 (23rd January - 1st February) is off to an excellent start in Kreischberg (AUT). 27 participants from eight nations had the opportunity to see their idols in action during the final days of the FIS Freestyle Ski and Snowboard World Championships.

Sport News

1 February 2015
China tops in Lake Placid aerials team event
The second-ever World Cup aerials team event took place on Saturday night at Lake Placid's Whiteface Mountain in difficult conditions, with frigid temperatures and strong winds making for a tough night for the highest jumpers in the world. 


1 February 2015
Slovenia wins in Willingen
The jumpers of Slovenia won the team competition in Willingen. Jurij Tepes, Nejc Dezman, Jernej Damjan and Peter Prevc scored a total of 957.9 points and took a clear win ahead of Germany and Norway. 


1 February 2015
Norway and USA announce team's for Falun 2015
The Norwegian and American Ski Federations have announced their cross-country ski team selections for the upcoming FIS Nordic World Championships in Falun, Sweden taking place from the 19 February to 1 March, 2015. 


Road to Olympics

8 January 2015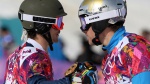 4 December 2014

24 November 2014