Around the world

26 May 2015

26 May 2015
First training camps under way
With the spring progressing, the Nordic Combined athletes have returned from various holidays and off-season pursuits and training has started again.

26 May 2015
Dustin Cook and the dream season
When Dustin Cook found himself on the podium at the 2015 FIS Alpine World Ski Championships, he also found himself riding a wave of outstanding performances that also included his career-first podium in Kvitfjell, followed by his career-first win in Meribel.

FIS News

26 May 2015
Gearing up for the Calendar Conference
With the beginning of June, the Calendar Conference in Varna, Bulgaria approaches fast and next to the traditional confirmation of the final versions of the calendars, there are numerous points on the Nordic Combined agenda.

25 May 2015

21 May 2015

Sport News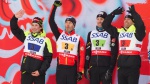 25 May 2015

21 May 2015
Russian World Cup teams are set
Russian Cross-Country Skiing Federation has announced composition of nationals teams for the 2015/16 season. A few changes took place in the Russian squad for the upcoming winter.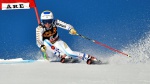 21 May 2015
Åre 2019 takes first steps
The 2019 FIS Alpine World Ski Championships in Åre (SWE) took its first official step as the inaugural Coordination Group meeting was held on 19th and 20th May 2015.

Road to Olympics

21 May 2015

11 May 2015

8 May 2015
Didier Defago finds a new role
With his retirement from the FIS Alpine Ski World Cup in March, Didier Defago (SUI) is moving onto a new role in the skiing world.

Calendar
| | | | | | | |
| --- | --- | --- | --- | --- | --- | --- |
| Mon | Tue | Wed | Thu | Fri | Sat | Sun |
| 27 | 28 | 29 | 30 | 1 | 2 | 3 |
| 4 | 5 | 6 | 7 | 8 | 9 | 10 |
| 11 | 12 | 13 | 14 | 15 | 16 | 17 |
| 18 | 19 | 20 | 21 | 22 | 23 | 24 |
| 25 | 26 | 27 | 28 | 29 | 30 | 31 |