Around the world

24 November 2014
Ligety injures hand in training
Ted Ligety suffered an injury to his left wrist while training today at Vail's Golden Peak. According to U.S. Ski Team Medical Director Kyle Wilkens, Ligety suffered a left wrist carpal dislocation. 

24 November 2014

21 November 2014
New faces set to start for Team Austria in Ruka
Today's internal qualification competition, which the Austrian team held in Ruka, led to a World Cup team with multiple new faces. 20 athletes started and fought for eight World Cup spots for the first competitions of the new season next weekend.


FIS News

21 November 2014

20 November 2014
68 confirmed nations for 2015 World Championships
VAIL, Colorado—The traditional alpine skiing powers are coming, but so are countries such as the Cayman Islands, India, the Netherlands and Timor-Leste as preliminary team entries for Vail and Beaver Creek's 2015 Alpine World Ski Championships have yielded 69 confirmed national team entries to date.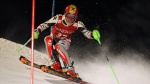 20 November 2014

Sport News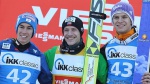 24 November 2014
First win in the World Cup for Roman Koudelka
Roman Koudelka won the first individual competition of the new season. With jumps on 138 m and 139.5 m the Czech, who already won the qualification on Friday, scored a total of 276.4 points. Austrian Stefan Kraft and Andreas Wellinger of Germany followed in second and third. 

23 November 2014
Germany takes home win in Klingenthal
The German ski jumpers took a home win at the opener of the new World Cup season in Klingenthal. Markus Eisenbichler, Richard Freitag, Andreas Wellinger and Severin Freund won with a total of 1098.0 points ahead of Japan (1068.9 points) and Norway (1061.2 points). 

19 November 2014

Road to Olympics

24 November 2014

24 October 2014
Olympic Agenda 2020 discussions culminate in 20 + 20 recommendations
The Executive Board (EB) of the International Olympic Committee (IOC) agreed today on a set of 40 recommendations that will shape the future of the Olympic Movement. The recommendations will be presented, discussed and voted upon by the full IOC Membership at the 127th IOC session in Monaco on 8 and 9 December.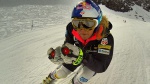 1 October 2014
Lindsey Vonn takes on Youth Olympic Games role for Lillehammer 2016
With 500 days to go to the second Winter Youth Olympic Games in Lillehammer, Norway, the International Olympic Committee (IOC) announced today that Olympic champion Lindsey Vonn will reprise her role as Ambassador for the Games, which will take place in February 2016.

Calendar
| | | | | | | |
| --- | --- | --- | --- | --- | --- | --- |
| Mon | Tue | Wed | Thu | Fri | Sat | Sun |
| 27 | 28 | 29 | 30 | 31 | 1 | 2 |
| 3 | 4 | 5 | 6 | 7 | 8 | 9 |
| 10 | 11 | 12 | 13 | 14 | 15 | 16 |
| 17 | 18 | 19 | 20 | 21 | 22 | 23 |
| 24 | 25 | 26 | 27 | 28 | 29 | 30 |