Around the world

22 December 2014
Injury update from Val d'Isère
Austria's Stefanie Moser picked up a knee injury while crashing in the downhill training run on Friday. The 26-year-old was transferred back to Austria for further medical examinations

19 December 2014

18 December 2014
Japanese Team with successful training in Europe
After the Japanese Snowboard Team had stayed for a few weeks on the Pitztal glacier, the place where the most international teams trained end of November and beginning of December, the squad headed to the North for some additional winter preparation time. 


FIS News

19 December 2014

19 December 2014
Val Thorens reschedule confirmed, program set
VAL THORENS, FRA - There's light at the end of the tunnel for the FIS Audi ski cross World Cup tour, as a dark December of cancellations is drawing to a close and bringing us to a January that should see us back to racing. 


19 December 2014

Sport News

22 December 2014
84th victory for Bjoergen and 1st for Pellegrino in Davos sprints
The winningest World Cup skier and the newest World Cup winner took the top spots in Davos, Switzerland today in the free technique sprint competition. Marit Bjoergen of Norway won her 84th career World Cup in the ladies' sprint and Federico Pellegrino of Italy won his first ever in the men's event. 


22 December 2014
Hirscher dominant on the Gran Risa
Men's World Cup competition continued in the Dolomites Sunday with the third day of racing dominated by Marcel Hirscher. The Austrian overall champ was again superb, commanding a third victory in four giant slaloms this season. 


22 December 2014

Road to Olympics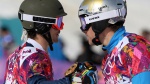 4 December 2014

24 November 2014

24 October 2014
Olympic Agenda 2020 discussions culminate in 20 + 20 recommendations
The Executive Board (EB) of the International Olympic Committee (IOC) agreed today on a set of 40 recommendations that will shape the future of the Olympic Movement. The recommendations will be presented, discussed and voted upon by the full IOC Membership at the 127th IOC session in Monaco on 8 and 9 December.